20 March 2020
SPRING COFFEE BAR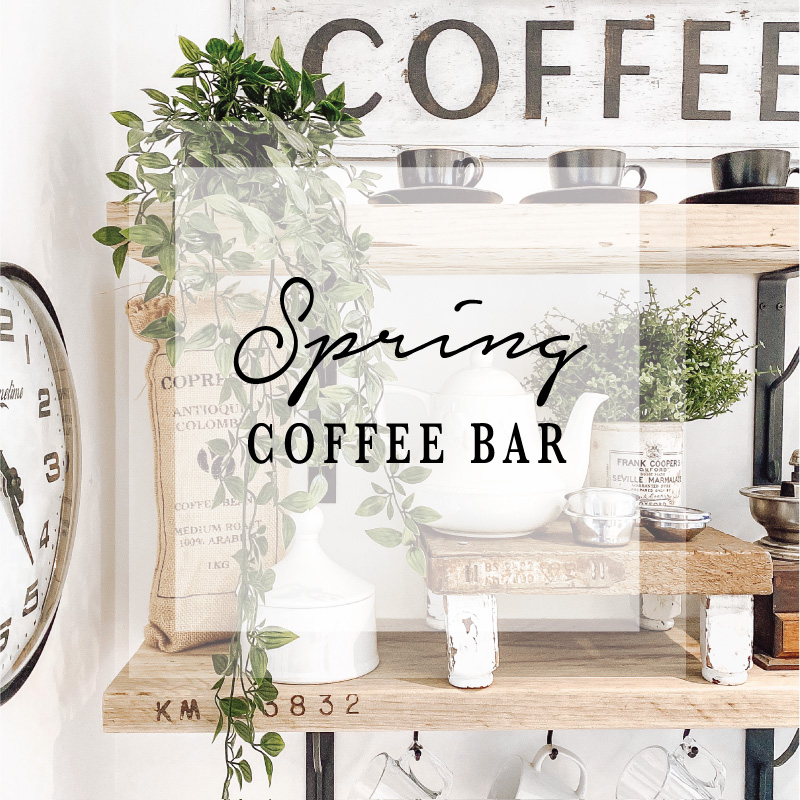 Hello Spring, oh how I have been waiting for you! This Winter seems to have dragged & my bones are ready to be warmed by a bit of warm Spring sunshine. The first signs of Spring are happening in the garden so its time for me to bring some Spring vibes into the house. I just love decorating for this season as its a chance to freshen things up & move forward away from the dullness that Winter can bring! This area in our kitchen seemed to be the perfect spot for a coffee bar, which may I add is an essential thing to have in our home!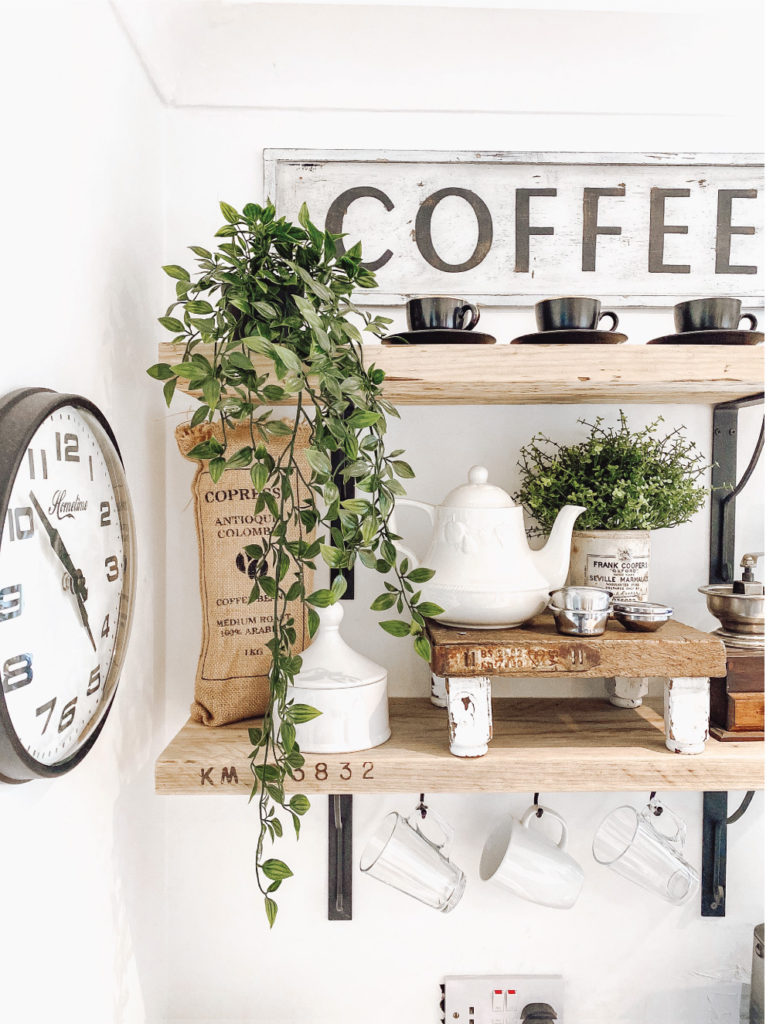 Originally there were over head cupboards here which felt bulky & a bit unnecessary & I had seen open shelving in other peoples kitchen & thought how good they looked.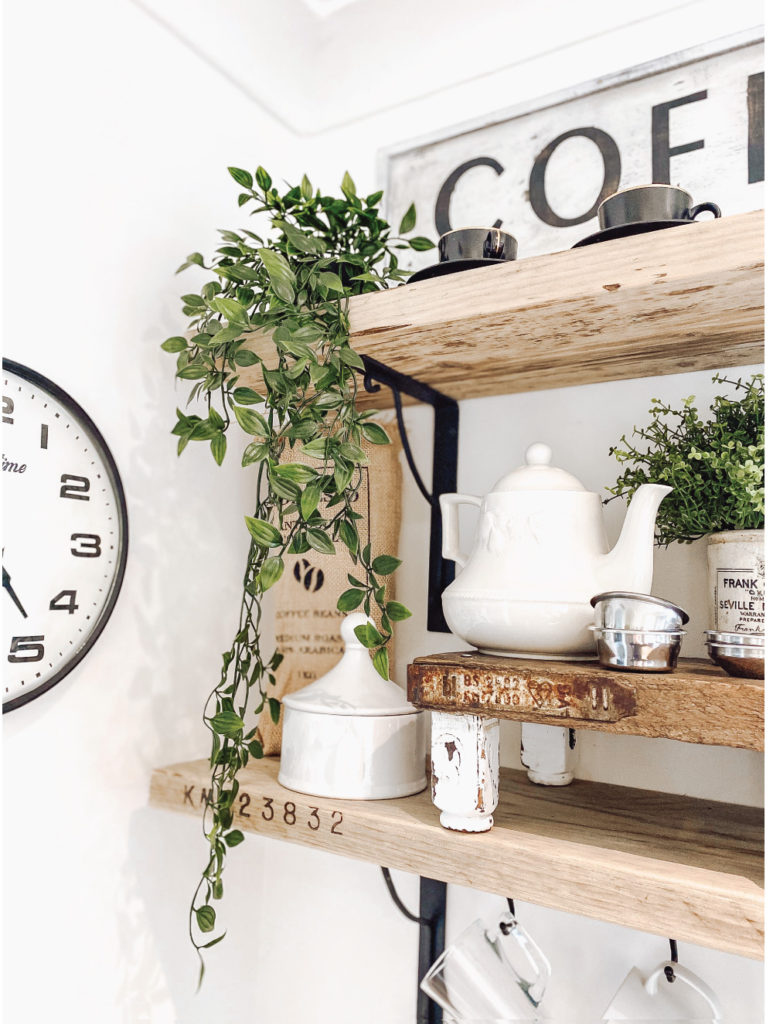 After prepping the space I dressed some old scaffolding boards I sourced from a salvage yard. There was no need to stain them as once sanded the beauty of the wood came out & all they required was a coat of matt varnish.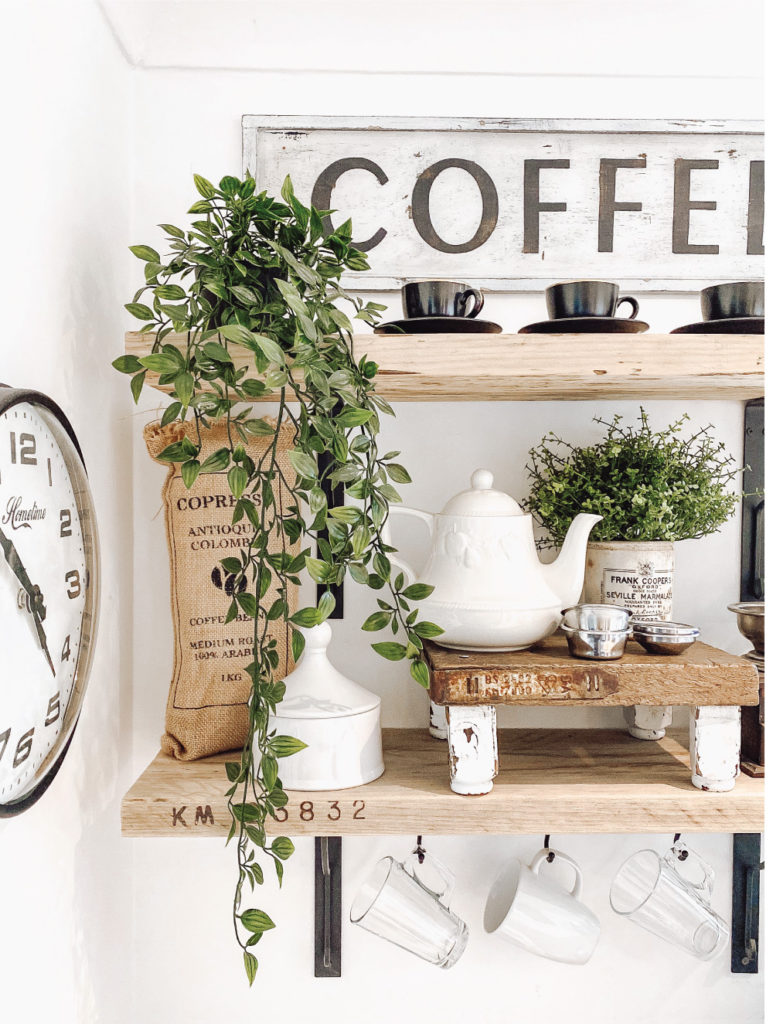 I chose these black brackets from Ikea to support the shelves & I love the contrast with the woods & whites. These ones are unavailable but here is an alternative bracket that they now stock.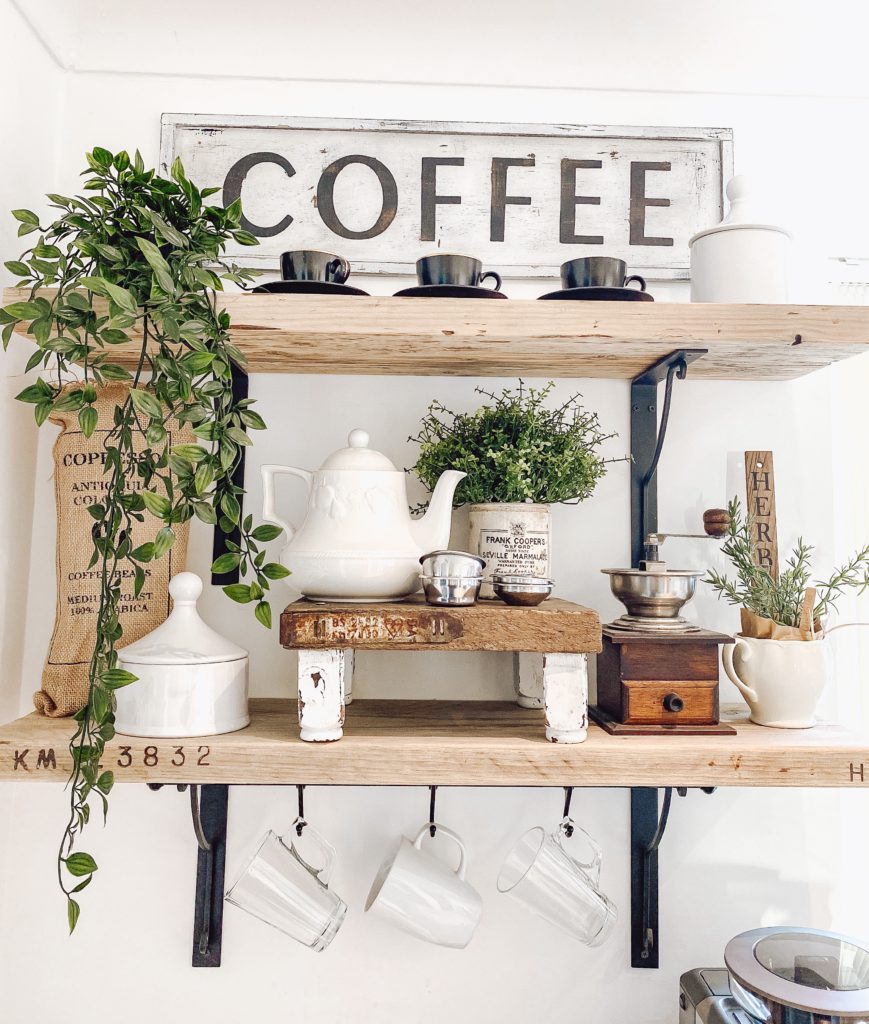 Then it was time for the fun bit…styling! So I gathered a few items that I thought would look visually pleasing & at the same time be functional for this space. I love clean whites in the kitchen so I chose some of my favourite vintage tea & coffee ceramics.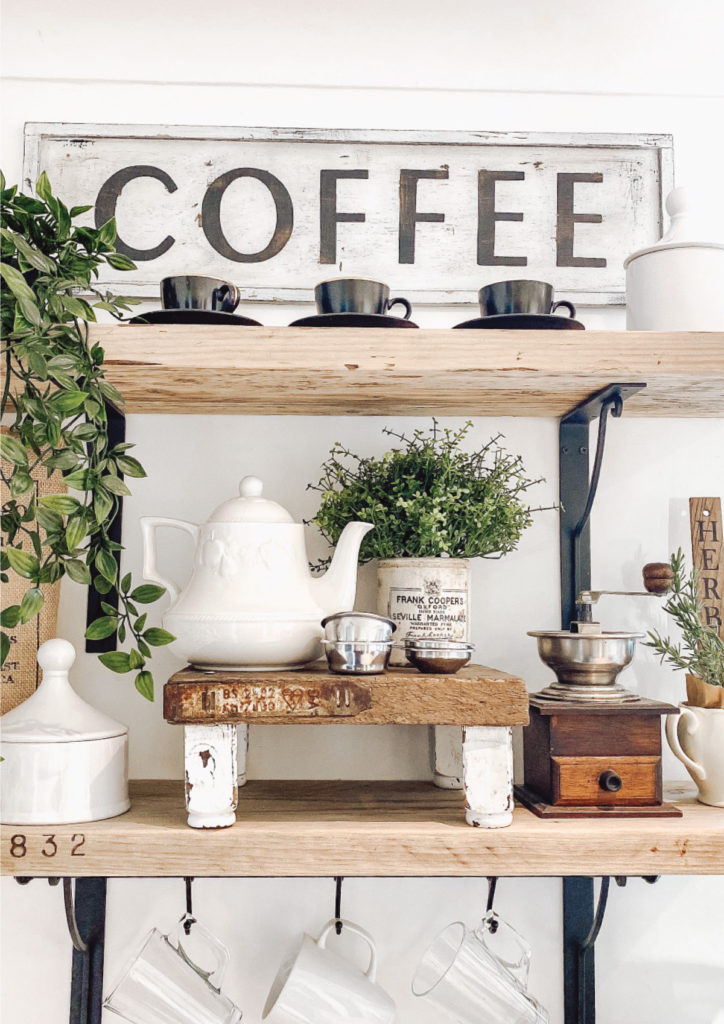 Most of the decor in our home is thrifted & I always consider spaces when out & about on my hunts. These black espresso cups for example which I brought from a charity shop…don't they look cute!!?
This old coffee grinder was also great to add the authentic look even though we will probably never use it.
I also made this coffee sign from scrap wood which really adds the bold factor to this display & reminds me first thing in the morning 'but first coffee!!'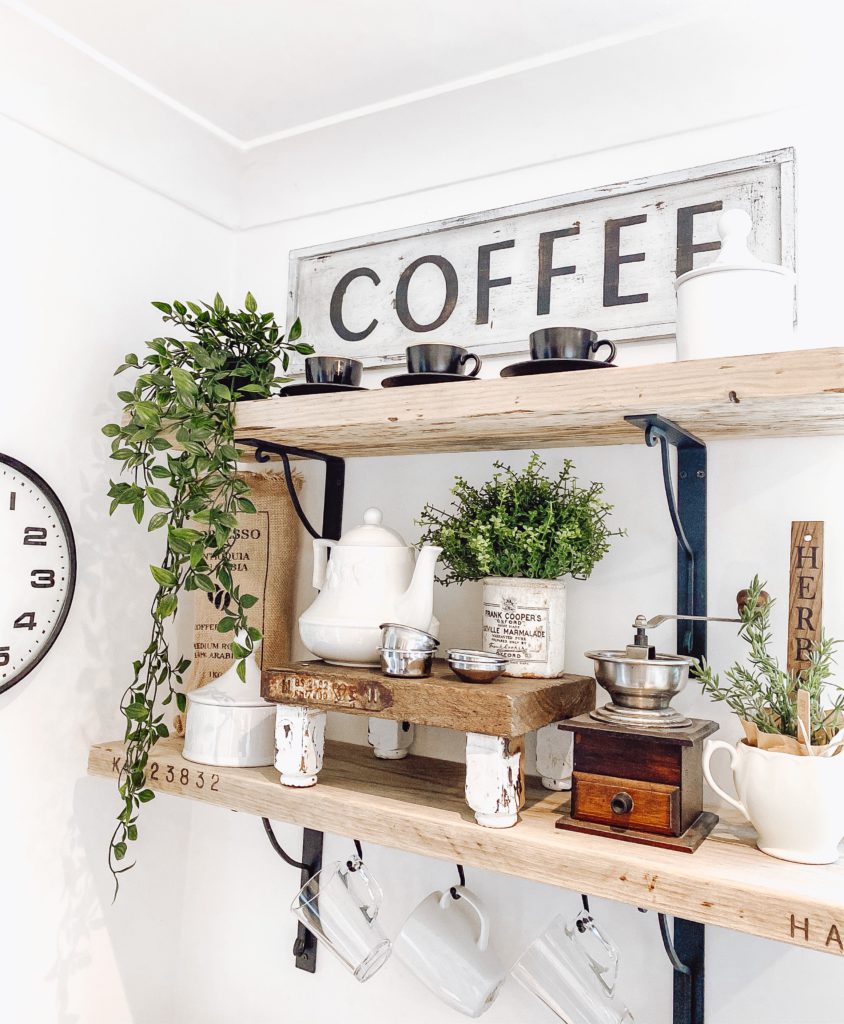 Risers are a must when I am styling my home, they create what I call 'rise & fall.' This one was made from a scrap piece of scaffolding board & chippy chair legs which i cut to size.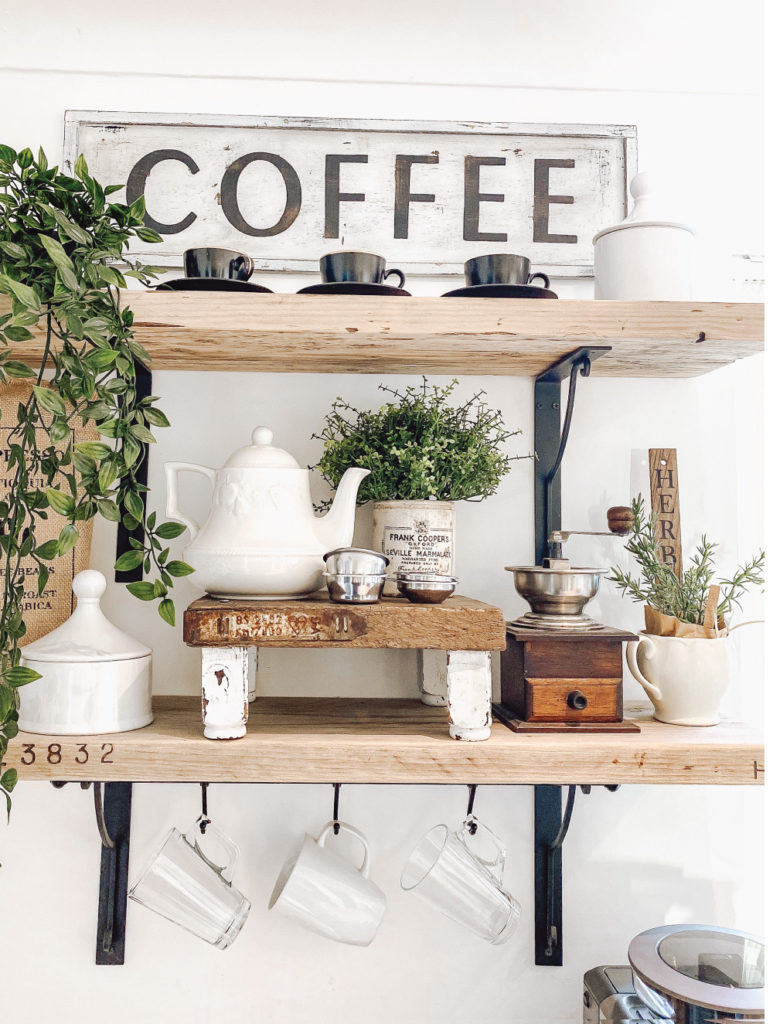 For me faux greens are a must for Spring, I say faux as I am a plant killer! Ikea has a great selection of faux plants for your home & its always my go to place when I need that extra bit of freshness for a space.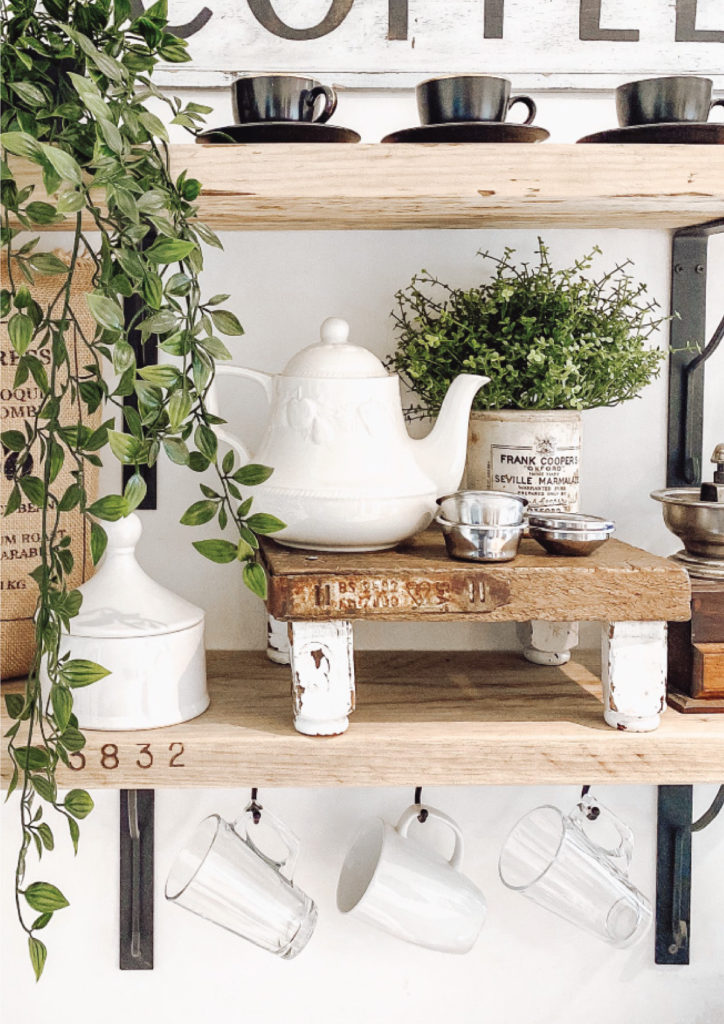 I seem to have an endless amount of mugs so I decided to pack most of them away & just display the ones we use the most. I attached this bar & hung them on these hooks, both from Ikea. This is a great way to free up work top space.
Thank you so much for reading the blog today, I hope you have been inspired to create your own coffee bar! I would love to see your creations, please tag me in your posts over on Instagram @makinghomematter
Happy DIY-ing friends! Let me know what you think in the comments below.
Lots of love
Anna xx